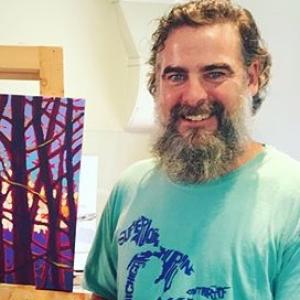 Paul Nabuurs
Artist member since 2019
Peterborough , Ontario
Paul was born in Newmarket, ON and was lucky enough to meet his high school art teacher who transformed his life and instilled a passion for painting. After high-school Paul attended The Ontario College of Art (now O.C.A.D.U) where he began to develop his skills while painting mainly in watercolour. After moving to Peterborough and raising a family with his wife, Paul began to focus his efforts on his practice again but now using acrylics and honing a strong personal style. Paul is now a full time artist working out of his Peterborough studio and selling his works to clients across Canada and internationally. He offers commissions and is now teaching at various art schools and private workshops.
---
When did you start making art, and why?
From as early as i can remember and a compulsion to create something that wasn't.
Upcoming Exhibitions
2019-07-12
TORONTO
Toronto Outdoor Art Fair
Education
1991
Ontario College Of Art

SHARE THIS ARTIST